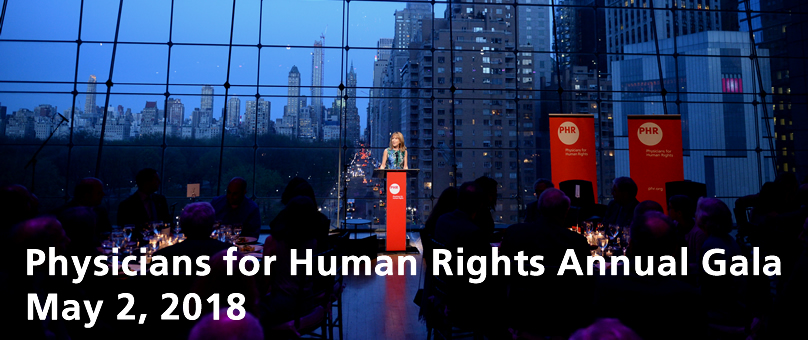 The Fourth Annual Physicians for Human Rights Gala honors the work of health professionals working on the front lines to defend human rights. It supports our work fighting for justice, advocating for persecuted health workers and health facilities under attack, preventing torture, sexual violence, and mass atrocities, and holding those who violate human rights accountable.
May 2, 2018
Mandarin Oriental New York
80 Columbus Circle at 60th Street
New York City
Cocktails at 6:30 p.m.
Dinner at 7:30 p.m.
Cocktail Attire
Honoring:
Dr. Nagham Nawzat Hasan, Yazidi doctor and activist
PHR salutes Dr. Hasan for her extraordinary work treating and supporting survivors of sexual slavery and genocide perpetrated by ISIS against Iraq's Yazidi minority.
Heroes of Health and Human Rights
PHR honors American health professionals who have taken courageous stands in extraordinary times, resisting government policies that threaten their patients' health and rights and ensuring that the needs of their patients and the ethical demands of their professions come first.
Mona Hanna-Attisha, MD, MPH
Norma Price, MD
Alex Wubbels, RN
Awards presented by:
Julianna Margulies
Anthony D. Romero, JD
Gala Co-Chairs:
Deborah D. Ascheim, MD, Alan K. Jones, Kerry J. Sulkowicz, MD
Gala Committee:
David Dantzker, MD, Sherrye Dantzker, Raymond P. Happy, Richard Horton, FRCP, Georgia Levenson Keohane, MSc, MBA, Robert S. Lawrence, MD, Ambassador Stephen J. Rapp, JD, Gerson H. Smoger, JD, PhD
Can't attend?
You can still donate to Physicians for Human Rights in lieu of attending:

If you are interested in purchasing a ticket please contact Cate Walters at 646-564-3737 or by email at cwalters@phr.org.