Demand Investigation and Accountability in Myanmar (Burma)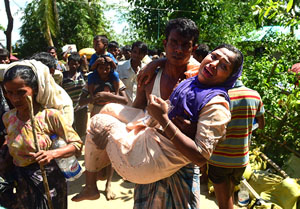 Since August 2017, the Myanmar military's campaign of extreme violence against Rohingya Muslims has forced an estimated 650,000 Rohingya civilians into neighboring Bangladesh. Refugee accounts, documented physical injuries, and satellite imagery have presented the world with incontrovertible evidence that these men, women, and children fled unimaginable atrocities, including indiscriminate killing, rape, and the burning and destruction of their villages.
There is something you can do today to help. Urge your congressional representatives to pass the Burma Human Rights and Freedom Act of 2017 (S.2060) and the Burma Unified through Rigorous Military Accountability Act of 2017 (H.R.4223) to support accountability for atrocities committed against the Rohingya, authorize assistance to entities that document evidence of abuse, and impose targeted sanctions against the senior officials responsible.